The Requirements
To meet the basic qualifications for the Human Resources Generalist opportunity, you must have legal authorization to work permanently in the United States for any employer without requiring a visa transfer or visa sponsorship.
To be a strong fit for the role of HR Generalist, you will also have:
5-7 years of relevant Human Resource experience at a mid-sized company, ideally with 150 to 350 employees Quick question for you - click here
A bachelor's degree in Human Resources, Management, Business Administration, Psychology, or a related field
PHR certification required; SPHR or other certification a plus
Experience with a wide breadth of Human Resource concepts, practices and procedures including HRIS, employee relations, onboarding and workers' compensation
Comprehensive knowledge of employment law, including leave of absence administration
Skill planning, managing and executing projects; ability to create clear action plans and produce strong work quickly
HRIS savvy, preferably with Paycom or related systems; adept with technology Quick question for you - click here
Solid MS Office Suite skills including Word, Excel, and strong PowerPoint
In addition, success will require the following core competencies and characteristics:
The ability to multitask and handle a range of projects simultaneously
Outstanding relationship building and partnering skills; strong written and verbal communication skills
The disposition to thrive, excel and support others in a fast-paced, changing organization; a commitment to excellent customer service
Ability to work with highly confidential information with absolute integrity at all times
Ability to work effectively under time constraints and act with appropriate urgency
Excellent organizational skills and the ability to work independently
Demonstrated ability to apply effective judgment and objectivity
The Role
As the Human Resources Generalist, you will report to the HR Director and work to support a client group of 170 in a dynamic educational organization supporting two major brands: Teacher Created Materials and Shell Education. In addition to managing day-to-day operational duties, you will serve as the right hand to the HR Director and manage a wide range of projects including HRIS, training implementation, benefits and compensation administration, policy development, employment law compliance, reporting and more. In addition, we offer a robust summer intern program, with which you will be deeply involved. Interns will report directly to you.
Quick question for you - click here

This is primarily a tactical role, but as you partner with your supervisor, you will also have the opportunity to see the big picture, influence strategy and play a key role in executing on a variety of initiatives. In our evolving organization, change is common, so you will also support your clients and the HR team in managing change.
Some of your specific tasks will include:
Assisting in the development and implementation of new policies; maintaining the employee handbook and policies and procedures manual.
Partnering with the HR Director to create and implement training modules for the company.
Performing benefits administration including claims resolution, change reporting, approving invoices for payment and communicating benefit information to employees.
Planning and implementing a plethora of HR projects throughout the year.
Maintaining management personnel files.
Monitoring employee safety issues.
Managing worker compensation claims.
Managing Leave of Absence tracking and ensuring compliance with federal and state regulations.
Maintaining compliance with federal and state regulations concerning employment.
Serving as the primary point of contact when the HR Director is away.
Managing interns during the busy Intern season (May-August).
Note: this position description is a communication tool. It is intended to give you a general overview of the position and is not an exhaustive listing of duties and responsibilities.
Shell Education, a TCM sister company built by one of the two original TCM founders, creates supplemental educational resources including practical, classroom-tested ideas and professional development resources to administrators and educators internationally. Offering a wide array of topics, Shell Education presents effective, classroom-tested, standards- and research-based solutions. Combined with high-quality training sessions from Teacher Created Materials, these practical resources provide increased benefits for both teachers and students!
More Good Reasons
Impact role
You will have the opportunity to drive daily success and influence HR strategy through your skills and strong ideas. We've enjoyed solid growth and success for more than three decades, and your efforts will help put processes in place that will allow us to continue to thrive as we execute on a new growth initiative.

Ideal time to join
We have a growth initiative to more than double in size over the next five years and we're on track to hit that goal. Human Resources functionality will become even more critical to our success. We're moving into new channels, gaining more international business, and are looking toward a future that will include a greater online presence and an enhanced digital product line. All of these efforts will lead to a larger client group and advancement opportunities for our proven players. You will be in a prime position to step up to a supervisory role, taking on direct reports and even more responsibility.

Award-winning
We have a sterling reputation, industry brand recognition, and highly awarded educational products.

Great company culture
You'll join a creative company that takes a positive, upbeat, team-oriented approach. We all believe strongly in the power of education and work hard to provide educators with the best tools available. We're a family oriented company, and a team with a unique cohesiveness and united goal that inspires us to create a world in which children love to learn. We have worked very hard to develop a set of core values which we all live by, and we take great strides to promote and recognize them in everything we do (including, for example, all employee engagement in school based events we sponsor on Read Across America Day).

Up even in a down market
Education has been through tough financial times over the last decade, but our niche market has continued to thrive and grow. Schools often have not had the money for texts, but instead, have purchased supplemental materials. Our award-winning products support core curriculum and under-achieving students and offer a high-quality and budget-friendly alternative to new text books, making them very attractive.

Excellent compensation
In addition to a competitive salary, we offer a comprehensive benefits package including medical, vision and dental, a 401(k) with a generous match, childcare reimbursement up to 5K, flexible spending that rolls over, and more. You will also enjoy perks outside of compensation and benefits such as a flexible starting time, the ability to support charities you and your teammates believe in, training opportunities, such as traveling to a conference or two each year, a business casual environment, and scheduled time off around the holidays!
Keys to Success
This role is a great opportunity to learn and grow while also making an impact and influencing the vision of the future of HR operations. To take full advantage of the opportunity, you will need to take ownership of your projects and responsibilities, but also know when to ask your supervisor for guidance. A partnership approach within HR will be key, but you'll also need to be independent and able to take a task and run with it.

Additionally, ours is a growing and evolving environment -- we expect to grow to 200+ employees by the end of the year and 500 over five years. So in addition to being a skilled generalist, you will serve as a change manager, helping the team evolve.
About Us
About TCM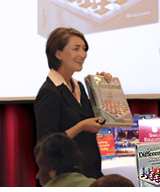 Our Vision
To create a world in which children love to learn!
Our Mission
To develop innovative and imaginative educational materials and services for students worldwide. Everything we do is created by teachers for teachers and students to make teaching more effective and learning more fun.
Who We Are
Teacher Created Materials is one of the most recognized names in educational publishing. For 40 years our wide array of award-winning resources continues to be used by educators throughout the United States and internationally in 89 countries.
Our Story
Rachelle Cracchiolo, CEO and Founder, started the company in 1977 with a fellow teacher, both looking to share their ideas and passion with other classroom teachers. What started as a hobby selling lesson plans to local stores became a part-time job after a full day of teaching, eventually blossoming into a full service company working to make Teacher Created Materials a familiar name in every classroom.
In 2004, Shell Education was launched with the introduction of professional resources and classroom application books designed to support Teacher Created Materials' curriculum resources and sold through a variety of channels.
Growth
From the very first publication, Quick Fun Art, Teacher Created Materials has grown with ever-expanding titles to thousands of resources, eventually moving its headquarters in 2004 to Huntington Beach, California. We now fully occupy three nearby buildings as well as employ over 50 field based employees.
Teacher Created Materials is an equal opportunity employer. EOE M/F/D/V