The Requirements
To meet the basic qualification for the Professional Sales Consultant position, you will have legal authorization to work permanently in the United States for any employer without requiring a visa transfer or visa sponsorship.
While K-12 classroom teaching experience can be helpful, as long as you are passionate about education and learning, we want to talk with you. To be a good fit for this role you will have:
A bachelor's degree.
The drive and tenacity to build a pipeline, manage an extended sales cycle, and hit goals.
Polished interpersonal and relationship building skills, including the ability to interact professionally with high level administrators.
Solid written and verbal communication skills, including the ability to listen and interpret client needs.
Practiced presentation skills and the ability to navigate a multi-layered decision-making process.
The ability to work from home and travel to school districts throughout your extended territory.
A valid driver's license and dependable transportation.
Essential key competencies include the ability to:
Influence from a professional, non-authoritative platform.
Act with honesty and integrity, and maintain a commitment to our organizational values.
Develop credibility and maintain open lines of communication.
Use customer focus as a competitive advantage and deliver a positive, differentiated customer experience.
Your territory will be centered on Sacramento and extend south to Stockton and north to Yuba City. It will include cities along Interstate 99, such as Yuba City, Roseville, Davis, Woodland and others. You might live anywhere within the territory, although our preference is that you live in the greater Sacramento or Stockton areas. You'll spend a good portion of your time out in the field calling on customers and prospects, although overnight travel shouldn't be more than about one day a month.
Pictured: We were recently awarded the coveted 2016 REVERE Award from Association of American Publishers.
The Role
Reporting to the Regional VP of Sales, as a Professional Sales Consultant for TCM, it will be your mission to drive sales and close business within the K-12 educational market -- primarily public schools. You'll partner with schools and school districts on learning solutions that enhance teaching effectiveness, while also advising and consulting on TCM's best-in-class products and services that align with educational targets and goals.
We will look to you to take a consultative approach to this role, performing an in-depth needs analysis for each client and then making the appropriate recommendations. Your contacts will be decision makers at the school and district level; school principals, curriculum professionals and resource teachers. The sales cycle can vary widely--anywhere from instantaneous to one year. You'll spend your time split between cultivating new business and maintaining and expanding the existing account base--although your initial priorities will focus on cold calling.
To grow the territory, you can plan on being out in the field visiting prospects and customers four to five days per week.
More specifically, you will:
Develop an understanding of students and teachers needs and expectations within your territory.
Understand opportunities with various customer buyers in order to develop viable solutions.
Build relationships with decision makers in order to build relationships and gain their support and commitment to various initiatives/programs.
Cultivate a business plan/solution and contingency plan in collaboration with the customer, using information collected during the account discovery process to ensure the plan meets customer needs.
Solve issues that arise during execution in order to eliminate barriers.
Develop customer call strategies to interact with buyers (coaches, gatekeepers) in order to gain access to senior-level buyers.
Coordinate implementation of agreed upon activities (e.g., trade shows, product training, regional workshops) within geographical responsibility in order to execute your plan.
Identify opportunities consistent with the objectives, priorities and strategies of assigned customers through discovery in order to prioritize potential focus area(s).
Review with the customer how the recommended solutions are linked to their needs to highlight Teacher Created Materials' commitment to customer needs.
Receive and answer incoming telephone calls and communications from customers in order to solve customer problems/requests.
Pictured: Explor-eBooks is a 2014 winner of Learning Magazine's Teachers' Choice Award for the Classroom!
What's in It for You
Control your own destiny
-- with the freedom that this opportunity offers, it's easy to feel like you're running your own business. Though you'll report to the VP of Sales for the Western Region, he believes in consultative management, leaving the control in your court. We'll provide you the tools, the training, the territory, and the support, giving you a roadblock free path to success. You'll work hand-in-hand with the VP to develop a plan and strategy to attack the market.
Solid training and support
-- this is a great territory; but even the best territory is only as good as the rep working it. We know you'll have the sales skill-set, but we'll provide an array of training and enhance those skills. At first you'll enjoy self-paced modules and CRM training that will provide a base, then one of our trainers will spend four or five days with you, delivering product knowledge, and you'll ride with senior staff to meet key players, get the feel of the territory, and polish the consultative approach. You'll join a team that includes several other talented Sales Consultants. Throughout your tenure you'll be paired a with a buddy with whom you'll stay in contact, so you'll never feel like you're out there alone. You'll also enjoy full-team sales meetings twice per year.
Strong growth
-- our specialized educational market is experiencing strong growth and that growth will equal opportunity for driven sales professionals. Our award winning products support core curriculum and under-achieving students by offering a high-quality alternative the new texts.
Pride and reputation
-- we have a sterling reputation, industry brand recognition, and highly awarded educational products.
Great company culture
-- you'll join a creative company that takes a positive, upbeat, team-oriented approach. We all believe strongly in the power of education and work hard to provide educators with the best tools available. We're a family oriented company, and a collaborative team with a unique cohesiveness, operating under a united goal that inspires us to create great products that support each level of a child's development.
Excellent compensation
-- we offer a strong base salary along with uncapped commission. Additionally, our benefits package includes:
Performance bonuses
Health insurance
Paid time off plus company holidays (and an extended paid winter holiday!)
Generous 401(K) match
Generous childcare reimbursement
A charity and cause donation program
EAP and FSA
Timely reimbursement of all business-related expenses
Remote work from home office base (San Bernardino or East Los Angeles area)
Keys to Success
You should come in, roll up your sleeves and get to the work of making things happen; you'll employ the competitive drive, assertiveness and tenacity necessary to grow your business. You should love to sell because you'll be dedicated to the sale, day in and day out, and travel accordingly. To be successful you will have two to three anchor appointments every day, combined with drop-ins, for a total of seven or eight daily contacts. Anchor appointments usually need to be set two to three weeks ahead, so you'll be highly organized and smart about the ground you'll cover.
Your key challenges revolve around overcoming expected objections, such as limited resources. You'll be resourceful in identifying key funding sources and decision-makers to maximize your sales efforts.
Additionally, your general sales competencies should include:
Customer Focus: Making customers (external and internal) and their needs a primary focus of one's actions; developing and sustaining productive customer relationships; creating and executing plans and solutions in collaboration with the customer.
Communicating Effectively: Conveying information and ideas in a clear, meaningful, and timely manner; providing information to ensure understanding; solicits input from the audience during the communication.
Planning and Organizing: Establishing courses of action for self and/or others to ensure that work is completed efficiently in light of the strategies and destination of the department and/or organization.
Exerting Personal Influence: Persuading others to support or agree with an idea, issue, or position.
Acting with Integrity: Maintaining a commitment to honesty; models social, ethical, and organizational values; firmly adhering to codes of conduct and ethical principles.
Work Standards: Setting high standards of performance for self; assuming responsibility and accountability for successfully completing assignments or tasks; self-imposing standards of excellence rather than having standards imposed.
Knowledge of the Business: understands value from a customer perspective; stays informed; understands the organization; understands the educational market.
Building Value Based Relationships: explores opportunities for relationships; identifies relationship needs; facilitated mutual agreement; develops credibility; maintains open lines of communication.
About Us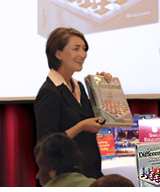 Teacher Created Materials is a publishing company and everything we do comes from teachers and is created just for them. Our mission is to publish quality research-based, educational books and materials in all curricular areas for teachers and students at all grade and skill levels. TCM provides a broad spectrum of both quality resources and professional teacher training. While remaining grounded in sound educational practice, we maintain an educational vision and an open ear to educators and their changing needs.
When Teacher Created Materials was founded in 1977, it was started by two classroom teachers looking to share their ideas and passion with their colleagues. The seeds they planted have blossomed into the vibrant and dynamic publishing company we know today. Privately and family owned since its conception, TCM is still run by teachers for teachers, and that will never change.
Teacher Created Materials is an equal opportunity employer. EOE M/F/D/V